SCARED OF THE SCARECROWS?

THE FUN O' THE FAYRE IN RURAL LANCASHIRE

by SAMANTHA GILES



In a tranquil English hamlet, with pretty stone-built cottages huddled together along a murmuring river, I had some time to take a wander around. I was in the tiny out-of-the-way Lancashire village of Wray, where climbing roses obscured worn dates reading "1600-and-something", all carved unevenly above doorways. Here there were no tea rooms, no souvenir shops or the usual trappings of twee tourist trail villages. I presumed I would get a glimpse of a normal village with normal village life. I got a whole lot more village life than I expected!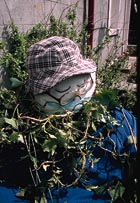 There were a few more people around in this village for its size and they seemed to be scrutinizing other peoples' gardens and houses in greater detail than would normally be acceptable. Maybe this was permitted in the North of England, known for its friendly but up-front manner. As I passed two couples staring into someone's garden, I followed their gaze. There was a burglar climbing out of the house on a ladder through an open window! However this life-size burglar was stuffed with straw, wearing a striped shirt and a mask with a bag labeled "swag" over his shoulder. I was in the middle of this year's Scarecrow Festival.

The colorful scarecrows were everywhere, in gardens, at the road side, in front of houses, looking out from windows and doors, in the river, in the surrounding countryside. Some offered local sayings, jokes or other messages from speech bubbles or wooden boards propped up at their sides. The local humor was very much apparent. My particular favorite was a traffic police-scarecrow dressed in full uniform and regulation Highway Police fluorescent jacket. He was crouching behind a parked car on the entry to the village, radar gun at the ready for any unsuspecting motorist! Many hearts will have missed a beat driving through the village during the week long display.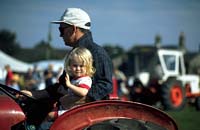 The scarecrows hang around until the traditional fayre takes place, still a custom in many rural areas of Britain. Here local folks from the surrounding countryside will indulge in "fell racing" and "tug-o-war", marvel at "rare" breeds and jumbo vegetables and relax to the open air music of local bands. Although the rural way of life is currently under threat in the present economic climate, it seems alive and well in this unspoiled corner of England. Long may it continue!

Samantha Giles joined us in the Lune Valley. You can visit this region too on one of our Gateway to the Lake District or Yorkshire Dales, Lakeland & Between tours.